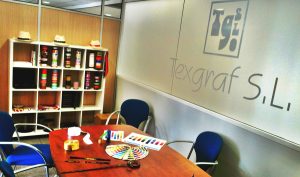 Our company specializes in serigraphy and sublimation continuously on all kinds of ribbons, which our media capacity and especially for the continuous improvement of our own technical structure, we offer our customers a quick response to their high needs.
Screen printers for both rigid and elastic ribbons, we are pioneers in Spain in our industry. We have all kinds of solutions, using techniques provided for maximum quality.
The human team of TEXGRAF S.L. includes specialists designers, and textile engineers contribute their knowledge and enthusiasm to offer flexible solutions to all the needs of design development, simulation and presentation of printed ribbons.
The evolution of technology and knowledge grow together with our customers, has enabled increased creativity, and management system, improve the environment of all our industry.
Modern design, innovation and functionality are present in all our ribbons, committed to quality in every new collection, with proposals and solutions, contributing to tissue special finishes like embossing, metallic appearance, etc..
Within our extensive catalog you will find all kinds of PRINTED RIBBONS: on different textile supports, screen printing, sublimation, transfers, and special inks.